2014 - Open Garden evening for Scannappeal

A very successful evening garden opening was held in May 2014 in aid of Scannappeal.

Guests sipped a glass of wine and nibbled a canapé or two as they wandered round the garden in the early evening sun.

Entertainment was provided in the form of Dennis and Diane ….. who brought their barrel organs.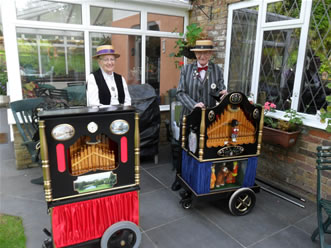 2013 - Joe Cardone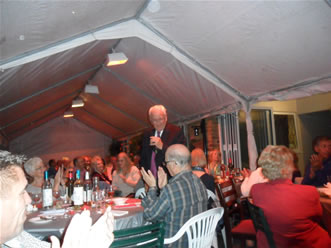 After meeting Joe Cardone on a cruise ship out of New York we just knew his style of humor would make a perfect evening in aid of Scannappeal. Three years in the planning Joe agreed to fly to England stay in our apartment and treat 80 people to after dinner humour, which will be remembered for many years.
This year we decided to have a sit down meal in a marquee just in case the weather decided to let us down on the day. It did not rain but is was chilly but 12 kilowatts of radiant heating kept all warm included the house electric cables supplying the power





All our garden concerts have had perfect weather except the 2012 concert when it rained all evening, but we were in the church that year with a choir too large for the garden.
Somebody must be watching over us .

Note from Joe
Hi Alan
We arrived home late Friday evening and have been trying to rest and catch up on some much needed sleep.
Justine and I had a great time with you and Elaine and at the function on Saturday evening. Thank you for being such great hosts and for taking us to Windsor, to the train stations, the stay at your home, and for showing us a beautiful part of England. We are telling everyone how terrific all of you were. Again, I hope you were pleased with my program. If you have any additional feedback, I would appreciate your letting us know.
Fondly, Joe and Justine
JOE CARDONE
Humor Consultant/Inspirational Speaker
jcardone39@yahoo.c

2012 - Julie A Scott
Despite the rain, garden openings for Magnolia House, Grange drive as well as The Shades and Fairview, raised a total of approximately £1000.00 for NGS and Scannappeal in 2012. The next garden opening will be snowdrops in February 2012.
The annual concert for Wycombe Scannappeal organised by Elaine Baudouin and Alan Ford was held on July 14th at St Paul's Church Wooburn.
Julie A Scott was persuaded to return from Liverpool and perform in the Church with the Wycombe Orpheus Male Voice Choir, with Musical Director Louise Langley.




For the finale, Julie appeared in her 2012 dress of the year, to celebrate both the Jubilee and the Olympics. The concert was very well received and raised a total of £1300.



2011
A successful summer at Magnolia House - our opening with The Shades for NGS raised over £850 and our Garden party featuring the Trad Jazz Band, the Orpheus Cygnets and talented young guitarist Sebastian Leaper raised over £1400 for Scannappeal, to be augmented by gift aid.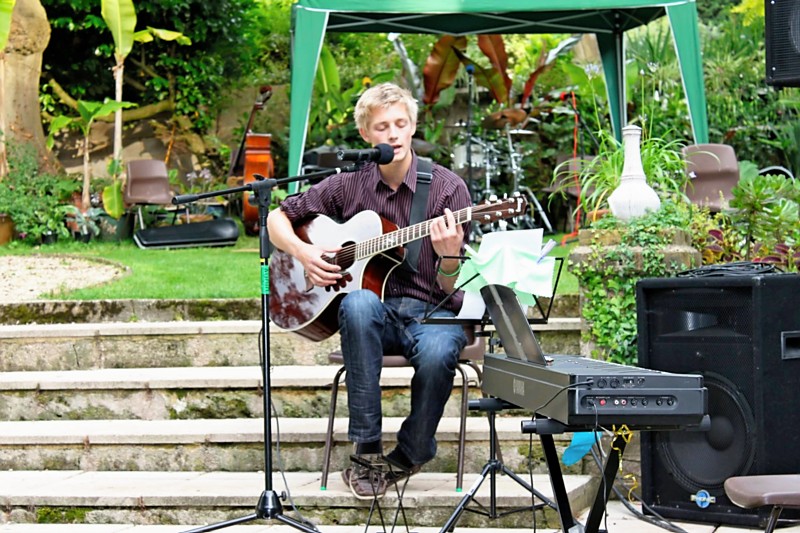 An Evening with Julie A Scott - 24 July 2010

Louise and Wendy

Approximately 130 people enjoyed another warm summer evening at Magnolia House for this year's garden concert.

In a hosta filled garden, the aviary birds backed the singing from the Cygnets (12 men from the Wycombe Orpheus choir) who, with M.D Louise Langley and Director Wendy Keeble set the scene for a wonderful 2nd Act of song from the guest star Julie A Scott.
| | |
| --- | --- |
| Julie, who travelled down from Liverpool to spend the weekend at Magnolia House, has sung her way around many cruise ships and towns in this country since winning the New Faces show in 1986. Alan Ford saw Julie perform on a P&O cruise and decided she was perfect to entertain at the annual Scannappeal concert held at Magnolia House. As usual the local school loaned the seats which were arranged on the lower lawn and the steps to the higher level made a perfect stage for the evening. | |
Her programme covered light opera, an Ivor Novello Medley, songs of Liverpool made famous by stars such as the Beatles and Cilla Black and a selection of Lloyd Webber songs, and finished with It's Time to Say Goodbye.

Julie's voice really needs to be heard live to appreciate its quality and range and after the show finished we were inundated with requests for her to return soon.
| | |
| --- | --- |
| The garden bar supplied refreshments and a successful raffle allowed the evening to raise £2400.00 for Wycombe scannapppeal. The money will go toward new equipment to help breast cancer patients undergoing surgery. Our heartfelt thanks go to Julie for coming down and singing free of charge on this evening. | The Audience in Magnolia Garden |
Summer Mia Evening at Magnolia House - 25 July 2009
| | |
| --- | --- |
| | For the 4th year running the weather was glorious and Summer Mia performed by members of Forum Players and Bourne End Musical Players at Magnolia House raised around £2,500 for Wycombe Scannappeal. |
| | |
| --- | --- |
| The cast performed the afternoon's dress rehearsal in hot sunshine but by the evening the weather was balmy. The resident compere, Brian Shillito introduced Louise Langley, well known locally as the MD of the Wycombe Orpheus Choir, as the musical director. Louise played the keyboard, accompanied by the musicians and sang several numbers herself. Wendy Keeble directed the show and also performed some comedy numbers. The cast sang numbers from several well known shows including Mamma Mia, there were several sketches and A rousing Old Tyme Singalong as the finale. | |
| | |
| --- | --- |
| | For many people this has now become an annual event . This year Philip Madoc was able to be in the audience due to a break in his film work and the guest, Mr Jonathan Greenland, Consultant Urologist gave a short speech on the importance of The Scannappeal Charity, which helps to buy much needed equipment for the local hospitals. |